Dinosaur Diggers
Melbourne Australia
We are a dedicated Melbourne based childrens education and learning company formed in 2006.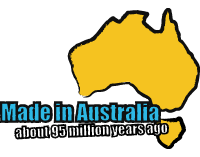 We are commited to the delivery of high quality and effective education of the natural science subjects of Dinosaurs and fossils. Our mobile exhibits are museum quality.
We provide a multi-sensory format that includes listening, touch and hands-on activities to create a strong learning and entertaining event.
We provide school incursion, school holiday event or birthday party formats to the pre-school - Grade 4 age group.
Great Feedback!
We have conducted hundreds of events in the Melbourne area.
Already over 10,000 kids, teachers, mums and dads have provided glowing feedback.
Please Contact us for more information.