Dinosaur Birthday Parties
Melbourne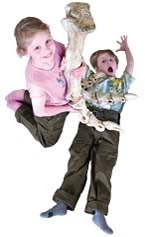 Want to have something special for your child's birthday party? Why not get Dinosaur Diggers to bring museum quality exhibits to your home or venue and run an amazing show.
Your kids will have loads of fun interacting with dinosaurs and it will leave them with a lasting educational experience that inspires them to deepen their knowledge of these ancient creatures.
We've received some great feedback from the children and parents:
"I invited my friends to come to my party with a stomp and a roar But even I didn't quite know what an adventure we were in for! With dinosaur skeletons galore and lots of fossils too, We could look and even have a feel - with our fossil finger mind you! We dug for fossils and panned for gems (yes we got to keep what we found) and learnt about dinosaurs when they walked the land. My mum said Sandra had us right in the palm of her hand. I wanted Tom the T-Rex to stick around for a longer play and I'm glad the Sabre-tooth Tiger didn't eat my dad. - Thanks Sandra, Dinosaur Diggers is the best party I've ever had!"

Rory Tobin-Underwood, 6 years

Thankyou to youself and Briony, very much for helping to make such a memorable party for Felix. He and his friends had such a wonderful time. I have had several parents commenting on what a great party it was.

Rachael Billington

Thanks again for the dinosaur party you put on for our 5 and 7 year old boys.

From the moment their friends started to arrive there was great interest and excitement around the fossils and models. The activities were both educational and entertaining and all the age groups (including the adults!) were enthralled. Getting to dig for and keep their own fossils and gemstones was a wonderful bonus and their 'paleontologist' degrees are displayed with great pride on their bedroom wall

We continue to receive comments from parents about the wonderful party.
Susanne Teh

Birthday Party Format
Children aged 5-12 years.
We will bring our mobile museum to your home or to a venue booked by you - we have full public liability insurance.
Our event is an interactive presentation on dinosaurs and fossils featuring museum quality items.
The children get to touch the exhibits as well as enjoy an activity being;
a fossil dig - where each child gets to find identify and keep real fossils
We finish by giving them a certificate of completion and their fossil's to take home.
An example of the timing is:
1pm we arrive
2pm guests arrive
2.15pm start presentation followed by activity
3.15pm we hand the children back to you for food/cake
4pm party finishes
We provide a fun, educational program where dinosaurs and fossils "rule".
What we need
We need an inside covered presentation area of approximately 12 square meters (3m x 4m roughly).
Easy access to venue is appreciated - flights of stairs are challenging for us!!!
Pricing
$480.00 for up to 15 children ($25.00 for each additional child). A travel fee may apply for events outside inner Melbourne suburbs and for use of city link.
Deposit of $180.00 payable to secure booking date and time please.
Contact us to enquire further or to book a Dinosaur birthday party. Your kids are going to love it!
Download Birthday Party Invitations If you have booked a party with us you can download Dinosaur Diggers birthday party invitations here.