Dinosaur Education Australia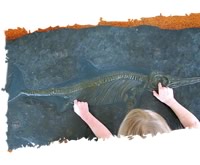 Dinosaur Diggers specialises in providing education of the natural science subject of Dinosaur's and fossils as a preschool or school incursion.
Our format is targeted at the preschool - Grade 1,2,3,4 classes.
Our content is aligned to the published VELS for Primary schools and is delivered in a multi-sensory format through presentation and interaction with our authentic museum quality exhibits.
We have received consistently positive feedback from teaching staff with many schools booking us for repeat incursions on a annual or bi-annual basis.
Here is a small selection of recent feedback:
"Extremely satisified with overall incursion; resources were great, fantastic engaging activities, presenter's enthusiasm was fabulous. Information shared was very useful for integrated unit.

The presentation by Sandra was excellent and engaging. The management of the children in the group was excellent. The content covered was age appropriate and certainly assisted and supported what we have been doing at school. The information was relevant and delivered in an easy and entertaining way for the students to discover.

The childrens responses, the presentation itself, the cost and the activities themselves made the incursion worth every cent"

Melton West Primary School (August 2010, Grades 1 and 2).

"It was fantastic! definitely was not expecting so much entertainment with our learning! and really well run and organised as well as being really engaging, fun, and full of rich learning"

Brunswick North West Primary School (August 2010)

"Met Expectations Excellent. The children loved the presentation and hands-on activities. The incursion is exciting, well delivered and motivates students to learn more about dinosaurs. The Dinosaur Diggers staff were well organised and a pleasure to deal with".

Derinya Primary School (Grade 2 Incursions 2007 and 2008).

"It was a great incursion and the children really enjoyed themselves and learnt a great deal of information. It satisfied all expectations".

Templestowe Valley Primary School (August 2010).

"It was great to have the resources available to show the preps. It complemented our integrated unit of work on dinosaurs well and the presenters were full of knowledge and intersting facts."

Carnegie Primary School.

"A fantastic,engaging,informative and hands on experience not only for the children but the staff as well. Everyone enjoyed digging for fossils (and we got to keep them), panning for gemstones, piecing together the gigantic T-Rex puzzle and of course looking at and using our"fossil finger" to touch the fossils, the T-Rex skull and everything else that Sandra brought. We will definitely be having Dinosaur Diggers at Vista Valley again. It was just like being at the musuem only better".

Karen De Stefanis 4yr old teacher Vista Valley Kindergarten.
Schools and pre-schools we have visited:
Acacia Avenue Primary School,

Al-Taqwa College,

Alfredton Primary School,

Annie Dennis Children's Centre,

Bentleigh West Primary School,

Brunswick North West Primary School,

Camberwell Girls Grammer ELC,

Candlebark School,

Canterbury and District Preschool,

Canterbury Primary,

Carnegie Primary School,

Columbia Park Preschool,

Corio South Primary School,

Derinya Primary School,

Doveton Primary School,

Edithvale Pre School,

Eltham College,

Fintona Early Learning Centre,

Footscray City Primary School,

ICA Melton College,

Ivanhoe Grammar School,

Laurimar Primary School,

Liebler Yavneh College,

Mt Hira College,

Melbourne Montessori Early Education,

Melton Central Preschool,

Melton West Primary School,

North Melbourne Primary School,

Oakleigh Greek Orthodox College,

Parkwood Green Primary School,

Queen of Peace Parish Primary School,

Roxburgh Rise Primary School,

St Aidans Preschool Centre,

St Leonards College,

St Peters and Pauls Primary School,

Sandringham Primary School,

Southwood Boys Grammar,

Strathcona Baptist Girls Grammer,

Surrey Hills Baptist Childrens Centre,

Syndal South Primary School,

Templestowe Valley Primary School,

The Basin Primary School,

The King David School,

The Lakes South Moorang,

Thomas Chirnside Primary School,

Tintern Schools - Southwood Boys Grammer,

Upwey South Primary School,

Warekila Preschool,

Warrandyte and District Preschool,

Wesley College - St Kilda Campus,

Wheelers Hill Primary School.
Kinders and Child Care Centres
ABC Academy of Child Care,

Altona Gate Kindergarten,

Camberwell Baptist Church Kindergarten,

Croydon Early Learning Centre,

Dandenong Park Kindergarden,

Eltham Childcare Co-Operative,

Kinglake Kindergarden,

Kool Kidz on Wellington,

Kew Kids Early Learning Center,

Olive Phillips Kindergarten,

Rowville and District Neighbourhood House,

St Augustines Kindergarten,

St Dunstan Kindergarten,

St Johns Anglican Kindergarden,

St Kilda Childrens Center,

Try Parkwood Green Preschool,

Wattletree House.
OSHC and Holiday Care
Bayside Vacation Care,

Camp Australia,

Caulfield Recreation Centre,

Carranballac College OSHC,

Casey Outside School Hours Care,

City of Kingston Vacation Care,

Clifton Hill Primary OSHC,

Coatesville Primary OSHC,

Community Child Care Association,

Frankston City Council - Childrens Services,

Langwarrin Community Centre,

Lynbrook Primary OSHC,

Merinda Park Learning and Community Centre OHSC,

Mont Albert Primary School OSHC,

My Special Day,

Ormond Primary OSHC,

Port Melbourne Uniting Church,

Quality Junior Program,

Quality Recreation Services,

Quantin Binnah Community Center,

St Gerards Primary OHSC,

Scotts Recreation Services,

The Grange Community Centre,

Timbara Primary School OSHC,

Try Youth and Community Services,

UYCH Vacation Care,

Vermont Primary School OSHC,

Wallarano Primary School OSHC,

Wesley College OSHC Elsternwick,

Wesley College OSHC Glen Waverley Campus,

Wyndarra Childrens Center,

Wyndham City Council - Youth Services,

Yarra Valley Grammer - After School Care.
Libraries and Associations
Bayside Library Service,

Casey Cardinia Library Service,

East Melbourne Library,

Girl Guides Victoria,

Glen Eira Library and Information Service.
To find out more or to make a booking please contact us.